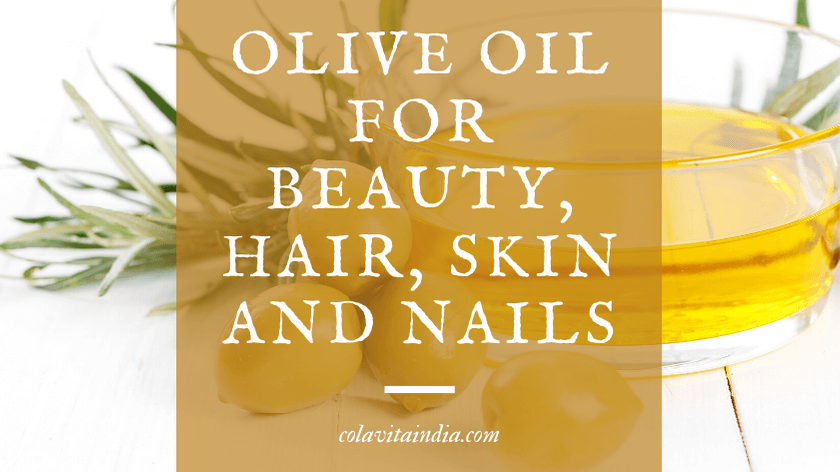 Extra virgin Olive oil have been a revered product both in Ancient Egypt, Greek and Roman civilization.
Extra virgin olive oil was not just an indispensable ingredient in almost all food consumed by them but was used also for beauty treatments. Cleopatra, the Egyptian queen known for her exceptional beauty has been known to have used olive oil in her beauty routines.
Amazing Benefits of Using Olive Oil for Beauty, Hair, Skin and Nails
Even today extra virgin Olive oil is an indispensable part of many soaps, lotions, shampoos and cosmetics. All the reasons making olive oil a wonder ingredient for cooking ,makes it amazing for the skin, hair and nail too.
 Buy Colavita Extra Virgin Olive Oil HERE!
RICH SOURCE OF ANTIOXIDANTS
Extra virgin olive oil being loaded with antioxidants ,an ingredient that helps fight the free radical that damages our skin and hair and protects them against harmful UV rays. Free Radicals creates inflammation and premature aging of our skin creating wrinkles.
POLYPHENOLs & SQUALENE
Polyphenols an antioxidant in extra virgin olive oil protects the skin from the free radicals, which is responsible for skin damage and skin aging.
Squalene is an antioxidant that is produced naturally by our skin, but with age its production diminishes and skin starts to age. Extra virgin olive oil being a rich source of SQUALENE, an ultra –hydrating ingredient ,hydrates and moisturizes the skin , and helps maintain a healthier and younger skin with a healthy glow .Extra virgin olive oil  also protects hair from getting split ends and breakage. . It has anti-inflammatory properties that reduces swelling and redness and helps soothe variety of inflammatory skin problems like acne and pimples
HIGH CONTENT OF SKIN ENRICHING VITAMINS
Extra virgin olive oil is loaded with vitamins and minerals especially A, D, E and K, the four best vitamins for skin, extra virgin olive oil makes our skin look radiant and healthier. Applying extra virgin olive oil in a regular basis reduces rough patches, stretch marks, dryness, wrinkles, redness, dark-spots and also protects your skin against sun-damage. Loaded with these vitamins, EVOO moisturizes and soothes the scalp and reduces dandruff and hair loss. It also prevents aging of the hair and boosts hair growth.
PACKED WITH OMEGA 3 AND OMEGA 6
Extra virgin olive oil is a great source of Omega 3 and 6. These "essential fatty acids" cannot be made by our bodies and has to be obtained from our diet .They serves as an essential building blocks of skins surface layer. Omega 3 and 6 in extra virgin olive oil helps fight inflammation. Supports the skin structure, keeps the skin hydrated reducing fine lines and wrinkles. Reinforces smooth skins surface and strengthens skin against environmental damage.
Fatty acids in extra virgin olive oil nourishes and moisturizes the nails giving them a shinier look. It nurtures healthier growth of cells in the nail bed, curbing the inflammation, to increase the absorption of nutrients to promote healthier growth of nails. Extra virgin olive oil nourishes hair follicles and boosts strength, lustre and thickness of the hair. It soothes dry itching scalp because of its anti-inflammatory properties and prevents hair loss
Conclusion:-
There is no doubt about the amazing benefits of extra virgin olive oil for your skin and hair.But it is recommended only to use certified organically grown , cold pressed , best quality ,unrefined extra virgin olive oil ,free of any preservatives and harmful additives to maintain a beautiful and healthy skin and hair. Good quality extra virgin olive oil produced without the use of heat or chemical refining, contains the highest level of olive oil's beneficial compounds.
So what are you waiting for go grab that bottle of elixir for your skin and hair from your kitchen pantry and whip up some easy skincare DIY's for you try.
Shop for Colavita Extra Virgin Olive Oil!